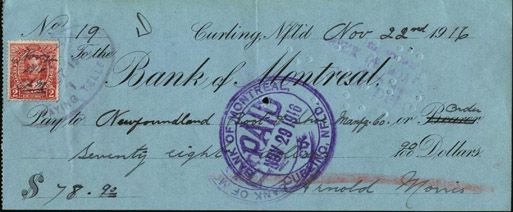 Just thought i would share this today. I've been a collector of Newfoundland Stamps for a while and have accumulated about 10,000 of them. Most are of little or no value and i sell them to tourist in the summer at our local museum craftshop. Got my hands on some old Nefoundland Checks with stamps on them. Apparently at one time in Newfoundland you could cash a check at a community post office just by purchasing a stamp.The cost it seems varied with the amount of the check. Less then $100 you would attach a three cent stamp,over that amount it was a five cent stamp,later increased to six cents.
(yes,you guessed it,the post offices have always been crooks!)
The practice continued even after confederation mostly because of a shortage of banks here. The one above is dated 1916.