November Hunt

The great thing about waiting until November to hunt in Newfoundland is that most hunters have already completed their hunt and you will not be eaten alive by the Mosquitoes. The Newfoundland moose population is estimated between 120,000 to 150,000 animals. Enough that approximately 30,000 are harvested annually.Here are a few shots of my recent hunt.
cutting a small path to the kill.
loading the kill in a wagon to transport.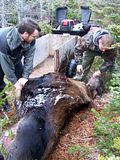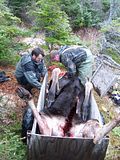 transporting it to the truck.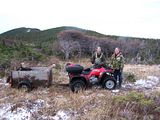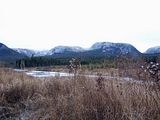 some of the scenery today.