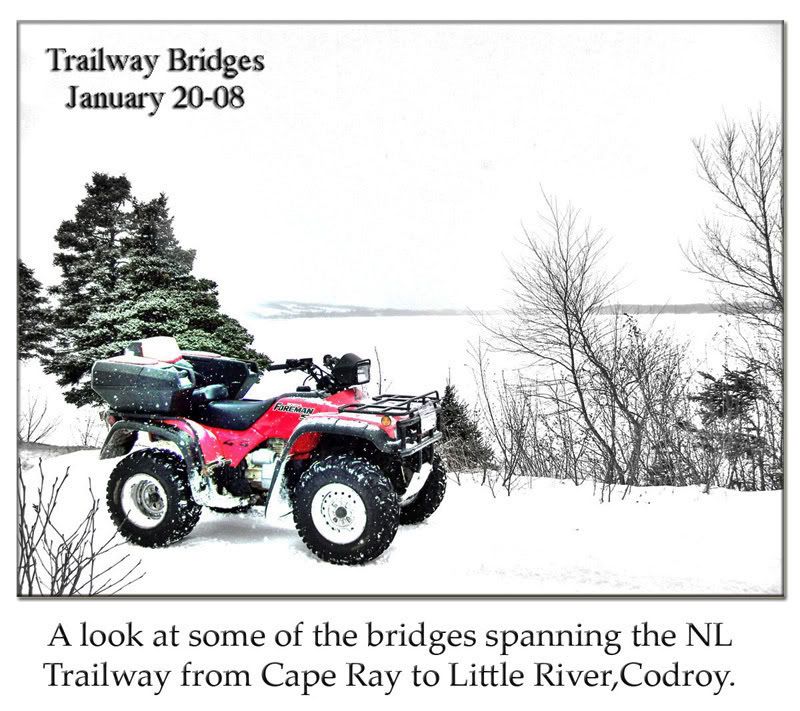 From CBC News, NL, Feb. 14/2008


T'Railway bridges, trestles ordered closed
Last Updated: Thursday, February 14, 2008 | 5:50 PM NT
In an unusual move, the Newfoundland and Labrador government ordered the closure of dozens of trestles and bridges on an island-wide trail.
The T'Railway Provincial Park was built along the former railbed of the Newfoundland Railway after it was decommissioned in the late 1980s.
In a statement Thursday, the government said federal inspectors found significant safety risks with trestles and bridges that are often used by hikers and riders on all-terrain vehicles and snowmobiles.
"Transport Canada indicates that 18 structures pose an unreasonable life safety risk to the public," the government said in a statement.
"The report also indicates that many other structures should be examined for life safety issues."
The remaining trestles and bridges will remain closed until engineering studies prove they are safe.
The government said it will erect warning signs and barricades to keep the public away.
here are a few shots of some bridges in my area. All structures seem safe and well maintained to me. Hopefully the list will become available to those of us who use the trail frequently.