Paranormal my Ass!!!!


I recently wrote about the weather being a bit peculiar even for here.
The local paper
wrote a story on a freak wind storm that went through Cape Ray recently. Today after a google search i see a guy by the name of
Rob McConnell
mentions it in his
X Zone Radio Show
. It was quite the storm and lasted only 10 minutes but i doubt if it would be considered a paranormal phenomena by anyone. The peculiar weather continues and this morning i made an ATV ride to the beach here. One thing i did notice throughout 2007 was the amount of erosion taking place in the area. Higher water levels from the sea and the effects of wind and rain are changing the face of our local dunes in the area.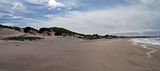 I grew up here and spent quite a bit of time on those beaches and now i'm actually wondering if the dunes will disappear in my lifetime? It'll have nothing to do with the paranormal but another phenomena called Global warming.